Sat 25 Jan
SportsPrediction Blog | Four-Way Battle for La Liga Crown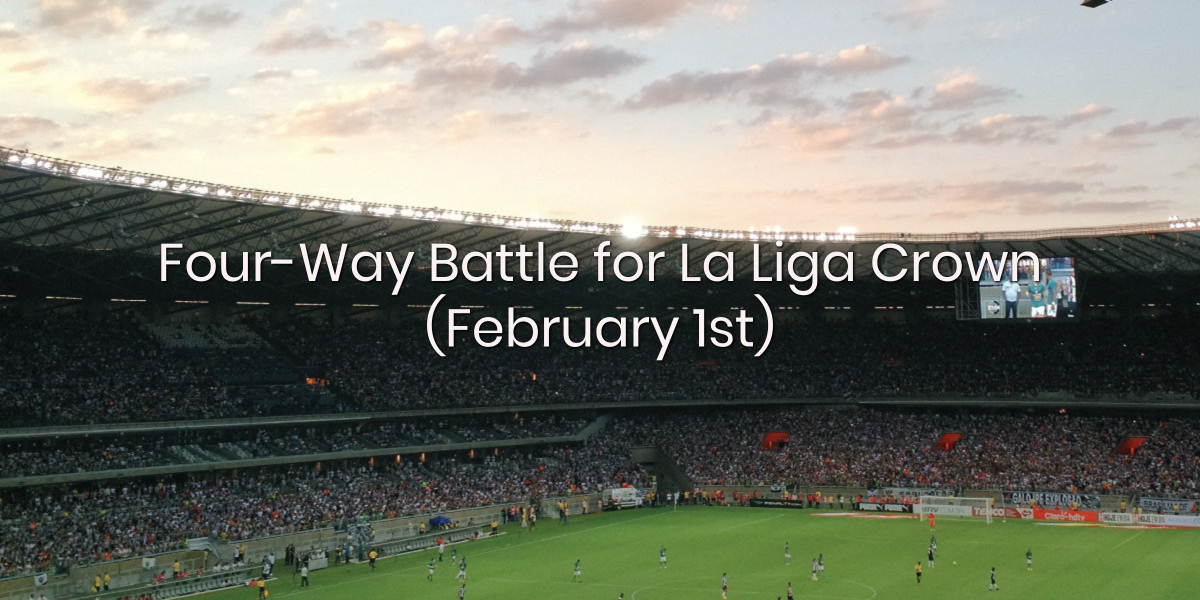 Four-Way Battle for La Liga Crown
Although Barcelona and Real Madrid appear to be in firm control of the La Liga title race, the 2019/20 battle for supremacy in Spain's top tier can still go four ways. In addition to ever-present Atletico Madrid, Sevilla seems to be staking a claim for the trophy now, and anything can happen until the end of the season.
Barcelona
After bringing the former Betis boss Quique Setien on board to succeed the under-fire Ernesto Valverde, Barcelona will try to shake things up a bit and reestablish a winning atmosphere in the dressing room. The Catalans have been looking for a tactician who understands the way Barcelona enjoy to play, and there is a genuine feeling that Setien's attacking philosophy perfectly fits the bill. Indeed, the 61-year-old promotes an offensive-minded style with quick transition and is closer to Barca's famous 'tiki-taka' than Valverde ever was.
The first thing Quique Setien will have to work on is improving the Blaugrana's performance on the road. Before departing for Jeddah for the Spanish Super Cup semi-final encounter with Atletico Madrid, the reigning La Liga holders have returned just 15 of their total 40 league points away from the Camp Nou (37.5%). And while they outscored all other Spanish clubs, home and away, the Catalans have again struggled to establish some balance.
Only 30.61% of their total La Liga goals scored have arrived on the travels, which seems unacceptable for a side that possesses such class and quality in their roster. Setien's most challenging task will be to make Barcelona less dependable on Lionel Messi, who has been indispensable for this team for the past 13 years. The Argentinean magician has contributed to 38.78% of Barca's league goals. For instance, the club's most expensive player in history, Ousmane Dembele, barely scored once since the turn of the season.
Real Madrid
After enduring a stuttering start to the season that has led the fans to urge the club's hierarchy to sack Zinedine Zidane, Real Madrid have begun gathering momentum and are now in strong contention for the title. Lifting the Spanish Super Cup trophy after a thrilling penalty-shootout success against Atletico Madrid will surely hand a big boost to Los Blancos's hopes of overthrowing Barcelona's domestic supremacy.
Zidane has improved Real in almost every aspect of the game since taking Santiago Solari's place in March last year. Real's airtight defense shares the league's joint-best record with cross-town rivals Atletico. Los Blancos shipped 52% more goals in the same period of last season then they've managed so far this term. Furthermore, by the end of January last year, Real already counted six league failures, while they only lost once in the same span this campaign.
There's still room for improvement in the attacking third, but with Eden Hazard on the verge of returning from a long-term injury, Karim Benzema and Co will receive a huge boost in the second half of the season. The Belgian forward has struggled to impress during an injury-hit first half of the campaign, but his presence on the pitch will make the rest of his teammates feel more comfortable.
Benzema, who has been Los Merengues' headline performer so far this season, needs support in the final third, with both Gareth Bale and Vinicius Junior failing to deliver consistency. Luka Jovic, who has a stunning Bundesliga season behind, has picked up a single La Liga goal to date, which also requires Hazard to step up in the title run-in.
Atletico Madrid
With a true 'Cholo Simeone' grit running through their veins, Atletico Madrid has again imposed themselves as one of the toughest teams in La Liga. Although they are still very much involved in the title race, Los Colchoneros have not been an exciting side to watch this campaign.
Like in the past seasons, goals have been in short supply for Simeone's men, but their stubbornness when defending has helped establish some balance. While Joao Felix and his colleagues managed a miserly average of just 1.15 goals scored per La Liga fixture, the first-choice goalkeeper Jan Oblak has conceded only 0.63 goals per league game.
As a consequence, 55% of Atletico's league wins this term have been hard-fought - coming via a single-goal margin. Although a lack of landslide victories could be overlooked, the fact Los Rojiblancos have failed to pick up a single win in three head-to-head encounters with the top-four sides (D2, L1) is an issue Simeone has to deal with to bolster his team's chances of prevailing in the title race.
Sevilla
While Sevilla's prime objective remains to secure a top-four finish, they can still pull off a surprise and make things difficult for the abovementioned giants. Indeed, they've shown they have all it takes to challenge Barcelona and the Madrid clubs for the ultimate reward.
The sole fact that no team has wrapped up more away points than Sevilla indicates that Julen Lopetegui's men are capable of achieving what many think is unreachable for them. But, just like Atletico, their inability to cope with Barcelona and Real in head-to-head meetings could be throwing a span in the works.
Nonetheless, the Andalusian giants have the league's fourth-best defensive record to show off, and a slight improvement in front of goal could make their hopes of winning the title possible. Los Nervionenses have to increase the output of 1.26 goals netted per league match by unleashing a 'killer instinct' and showing more composure to get really involved in the battle for the crown.