Sat 18 Apr
Soccer Prediction | Italy Serie A 2020 Top 4 Predictions - Part 2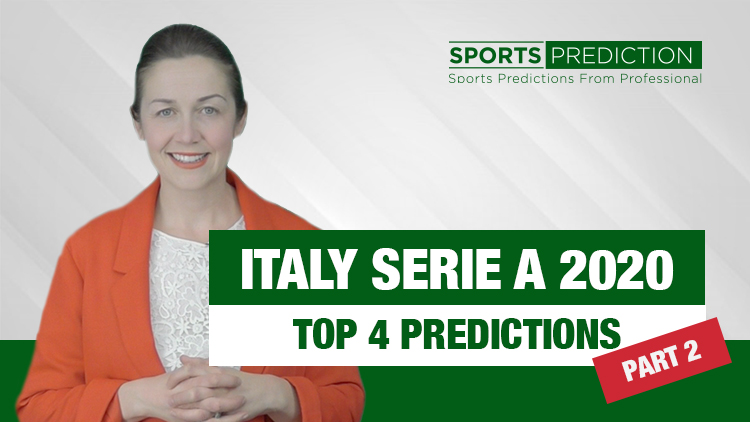 Italy Serie A 2020 Top 4 Predictions - Part 2
Are you a sports lover? Do you watch Serie A games and are interested in knowing how things unfold in the second half of the season? Welcome! I'm Emily De Cosimo and I'm the spokesperson for SportsPrediction.Asia Soccer Predictions. Today, we will look at the Italy Serie A 2020 top 4 part 2.
Now that we are in the second half of the season, how are things likely to play out in the top four races? With the current Champion, Juventus leading the log, will Inter Milan fight till the end? What is the fate of the rest of the teams to attain the champions league spots?

Italy Serie A 2020 Standing
Serie A's champions league spots are still very much up for grabs for the contenders. As it stands, Atalanta, Inter, AC Milan, Roma, Lazio, Cagliari, and Parma are all battling for the spots in the last round of the season.
Predictions
With the recent form of the Old Ladies and scoring form of the five-time World Player, Ronaldo, they are likely to retain the crown. Inter and Lazio are, however, giving it a tough fight. The scoring form of Ciro Immobile is something to excite the Lazio team and upset the league. Roma are not doing too fine, and AC Milan are just below par for years now. Therefore, one of the favorite outcomes of the table by the end of the season would be Juventus, Inter, Lazio and Roma- provided Atalanta slips off or Roma ups their game. In addition, the fixtures of these teams in the next few weeks will be a great determinant of who finishes well and where they finish.
I hope this information can guide and help your subsequent decision to bet with the Serie A. If you need other soccer predictions to make sound and wiser decisions, stay tune in this soccer prediction video series as we have more videos coming up for you. See you again!