Tue 21 Apr
Soccer Prediction | 2020 Segunda Division Top 4 Predictions - Part 2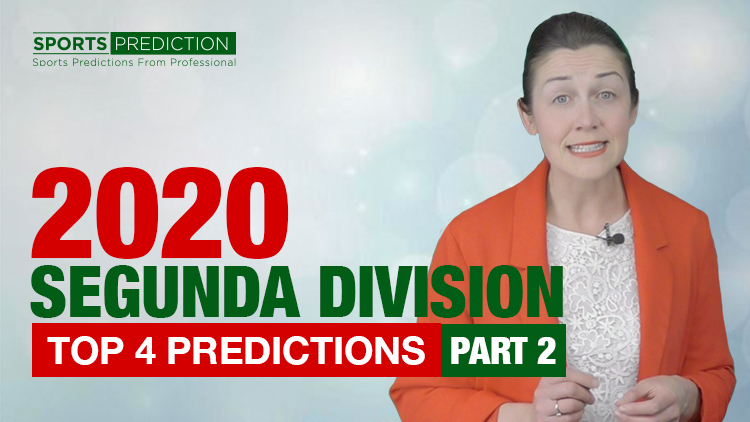 2020 Segunda Division Top 4 Predictions - Part 2
Are you a professional bettor? Are you a fan of the Spanish Segunda Division? Do you want some precise and professional predictions on part 2 of the football season? Welcome here! I'm Emily De Cosimo and I'm the spokesperson for SportsPrediction.asia Soccer Prediction. In this video, we will consider the 2019-2020 Segunda Division top 4 predictions part 2.
The Segunda division is the second tier of the Spanish league. That is, teams that gain promotion from the league can play with the likes of Barcelona and Real Madrid in the Spanish La Liga, while teams that are relegated from La Liga have to play here.
2019/2020 Segunda Division Top 4 Predictions
The following are the top predictions for the part 2 of the football season in Segunda Division:

#1. Cadiz CF
Cadiz CF has won 15 of the 27 games played so far this season. They are sitting comfortably on top of the log with 6 points separating them and the second-placed Almeria. With this current form and tenacity, they are tipped to win the league and gain promotion to La Liga come May 2020.
#2. UD Almeria
UD Almeria has scored six more goals than the table toppers, Cadiz. They have also conceded just 2 more goals. This is a perfect sign that they are giving it all it takes to gain automatic promotion and, if possible, displace Cadiz. Regardless of whether any of these happens, they can't finish less than 4th.
#3. Elche CF
Did you know that Elche CF hasn't lost in 11 of their last 13 games in the Segunda Division? Imagine if they continue with this form, they are very likely to end up in the top six or even cause an upset by finishing above many whom they currently are below.
#4. Real Zaragoza
Real Zaragoza is currently third-placed with a game at hand. If they win, they will displace Almeria and be placed second. They are in good shape and with three wins in their last six, they can finish in the top four positions by the end of the season.
Increase your odds and chances of winning bets. Follow other episodes from this soccer prediction video series for our seasoned and up-to-date predictions. Subscribe to our channel and stay tuned for more videos to learn more. We'll catch up with you next time!