Sun 03 May
Soccer Prediction | 2020 EFL League Two Top 4 Predictions - Part 2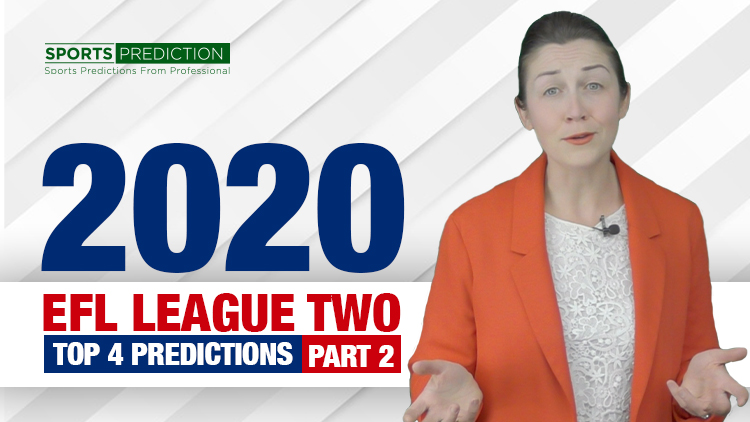 2020 EFL League Two Top 4 Predictions - Part 2
Do you love soccer? Are you a fan of the EFL League Two? Welcome on board! I'm Emily De Cosimo and I'm the spokesperson for SportsPrediction.asia Soccer Predictions. Today, we will dive into the 2019-2020 EFL League Two top 4 Predictions part 2.
How do the teams stand in the log? What are the chances of your favorite teams ending up where you expect them to? Here, you can be guided on how to make reasonable, appropriate, judicious and unbiased decisions especially as it concerns the second part of the season.
EFL League Two Top 4 Predictions
#1. Swindon Town
Swindon Town is continually making huge progress under Richie Wellens. The team performance has improved so much under the manager and they are beginning to show how superior they can be, demonstrating a lot of potential to win the league and ultimately gain promotion to League One. So far, they look strong enough to end up as EFL League Two champion.


#2. Plymouth Argyle
Plymouth Argyle are displaying some good football tactics and enjoyable moments on the pitch. They are doing quite fine and are looking comfortable enough to contend and gain promotion.


#3. Crewe Alexandra
Crewe Alexandra is demonstrating an excellent display of football so far this season and this is not in any way surprising, given what they did in the second half of the previous season. Between September and January, they have scored four or more goals in a league win and this is a pointer to the fact that they have the credentials for promotion.


#4. Colchester
Colchester is on course to finish in the top 7 this season, which is their third season in the EFL. They are considered good enough for a top 7 finish but in case they miss out on promotion, especially if they have to settle scores via a play off. Overall, we should note that there are possible occurrences of upset that can undermine the chances of these teams finishing where you predict.
Do you find this information helpful? If you do, we bet you'd like other videos in this soccer prediction series as well about top league predictions! Stay tuned and meantime, subscribe to our channel so you won't miss a thing! See you next time!