Mon 25 May
Soccer Prediction | Bundesliga 2020 Top 4 Predictions - Part 2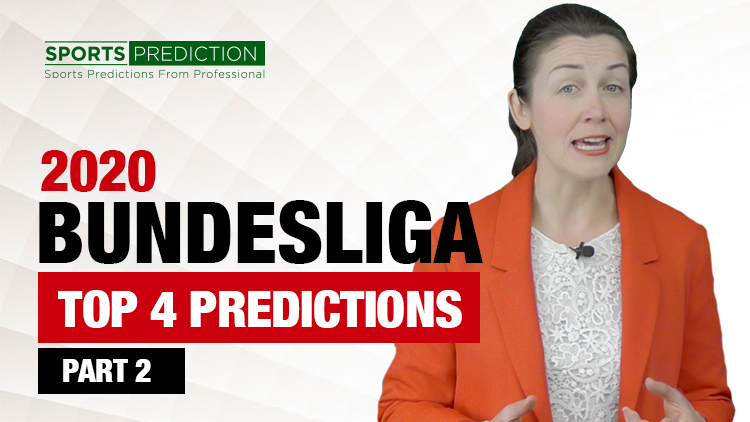 Bundesliga 2020 Top 4 Predictions - Part 2
Are you a Bayern Munich, Borussia Dortmund or RB Leipzig fan? Or are you only a lover of the Germany Bundesliga games? Welcome on board! I'm Emily De Cosimo and I'm the spokesperson for the Soccer Predictions Series. Brought to you by SportsPrediction.asia. In continuation of our series, we will dive deep into today's video discussion: Bundesliga 2019 top 4 part 2.
What are the surveys depicting? Where are things heading and who will become the ultimate winner of the league? A careful understudy of the forms of the teams, injuries, difficulty or simplicity of the next fixtures ahead might determine who ends up winning and losing.
Bundesliga 2020 Table
As it stands, the current champion/holder of the prestigious German league, the FC Bayern Munich are leading the log with 42 points from 20 games played. RB Leipzig comes second on the log with 41 points from the same number of games. Borussia Dortmund and Borussia Mönchengladbach are both at 39 points, while Bayer 04 Leverkusen, FC Schalke 04 and TSG 1899 Hoffenheim have 34, 34, and 33 points, respectively. With only 6 points separating the 3rd placed and 7th placed teams, there is more to look out for in this race. Especially in this part 2 of the season.
Expectations
So far, Robert Lewandowski of Bayern Munchen is on top of his game. If this continues, with other things being equal, they are likely to retain the league title as champions. But then, the current form of Timo Werner of RB Leipzig and Jadon Sancho of Borussia Dortmund is something to consider. Not only that, but Yann Sommer of Gladbach is also in the form of his life; arguably the best goalkeeper of the season so far. These factors add up to determine who the eventual winner would be. Bayern Munchen, RB Leipzig, Borussia Dortmund, Gladbach are winners of the top 4 placings.
Do you find this information useful for your betting prospects in the Bundesliga? What else would you like us to review? Comment below and don't forget to subscribe to our channel so we can bring you more soccer goodness. Stay tuned for other episode in this same soccer prediction series for more soccer league predictions and thank you for watching!