Thu 01 Nov
Use Double Chance Football Betting Strategy To Earn More

Double Chance Betting Strategy To Earn More
Article last updated on 12th of November 2019
Soccer betting is an industry that offers an opportunity to both football fans and non-fans to enjoy good returns by providing them with the opportunity to earn a good amount of money through different betting markets.
No matter what your preference may be, there's something for everyone.
There are many for you to choose from, with the most popular ones being 1X2, handicap, both teams to score and the over/under market, but here, we will take a look at the
double chance betting
market.
Double chance betting strategy
is great for beginners as well as professional bettors, as it is often associated with low risk and high rewards.
Double chance betting in a nutshell
This type of bet is straightforward and fairly easy to as the
sports bookie
has already offered you double chances of winning.
When it comes to a soccer match, there are three possible outcomes - a win, a draw or a loss. With the 1X2 or the European handicap betting market, you're allowed to place a bet on one of these three outcomes.
In the case of
double chance betting
, you get to club two possible outcomes together for a bet. This means you have a higher chance of winning.
Your options will look something like this:
1X or Home/draw win - If the home team wins, or the match ends in a draw, you'll win the bet.
2X or Away /draw win - If the away team wins, or if the match ends in a draw, you'll win the bet.
12 or Home /away win - If the match doesn't end in a draw, you win the bet.
Types of double chance betting
There are two main types of
double chance betting
, these are:
Low-Risk Profiteering
Underdog Hunting
A punter can choose the kind of double bet depending on how deeply they understand the dynamics of football.
If you can spot an underdog, but you are still not sure how reliable their opponent could be, these are the type of bets you should consider.
Low-Risk Profiteering
As we have mentioned above,
double chance betting
is a low-risk type of betting. You can bet on the favorite/draw option, or you can choose to bet on the home/away options.
As long as the better team doesn't lose, you're all good. It's a safe betting market.
However, it needs a lot of patience to see good money given that the odds offered for the same are extremely low. Yet, if properly executed, it has the potential to earn punter profits on a regular basis.
Underdog Hunting
Given the volatile nature of soccer, a punter cannot afford to ignore an underdog as soccer has a way of surprising us. How many times have you watched the result of a particular game and you tell yourself, "Yes, I was right, I thought so."
For example, you may find a reliable team being beaten by a team that seemed weak due to various reasons. One of such is the home ground advantage.
Remember, a strong team may be visiting a seemingly weaker team, and they have to travel thousands of miles for that particular game. Things like jet lag, change of weather and unfamiliar grounds may work against the stronger team, and the underdog will take the win.
They usually have much higher odds, so if you feel like the underdog has the potential to win, or at least score an equalizer, your payout can be huge.
Now that you're more familiar with this type of wager, you'll probably what to know how to win each time you bet.
You could use SportsPrediction to find some of the
best soccer betting strategies
.
Without further ado, here are some of the best
double chance betting tips
for you to incorporate into your routine.
Double chance betting strategies
Luck favors the home team (If you're dealing with two evenly matched team, you'll want to side with the 1X option. I'll admit that maybe this has less to do with luck, and more to do with familiarity and practice though. This may not be the case if the home team is the underdog, but clubs do have a history of coming out on top when you least expect it.)
Choose matches that are harder to predict (Most double chance bets have low odds, which means that you will receive a low payout. There's nothing inherently wrong with this, any profit is a profit. But, if you want to earn some big bucks, try to bet on matches that are harder to predict. These have higher odds, so if you win, you'll make a larger profit. Following a good football betting blog can definitely help.)
Hedge your bets (Double chance provides a great opportunity to hedge your bets. Hedging involves placing bets in multiple outcomes, in order to guarantee a profit. Alternatively, you can even look into arbitrage betting, in order to increase reduce the risk involved, and increase your profits.)
Double Chance Football Betting Strategies Video




Double Chance Most Effective Football Betting Strategies Infographic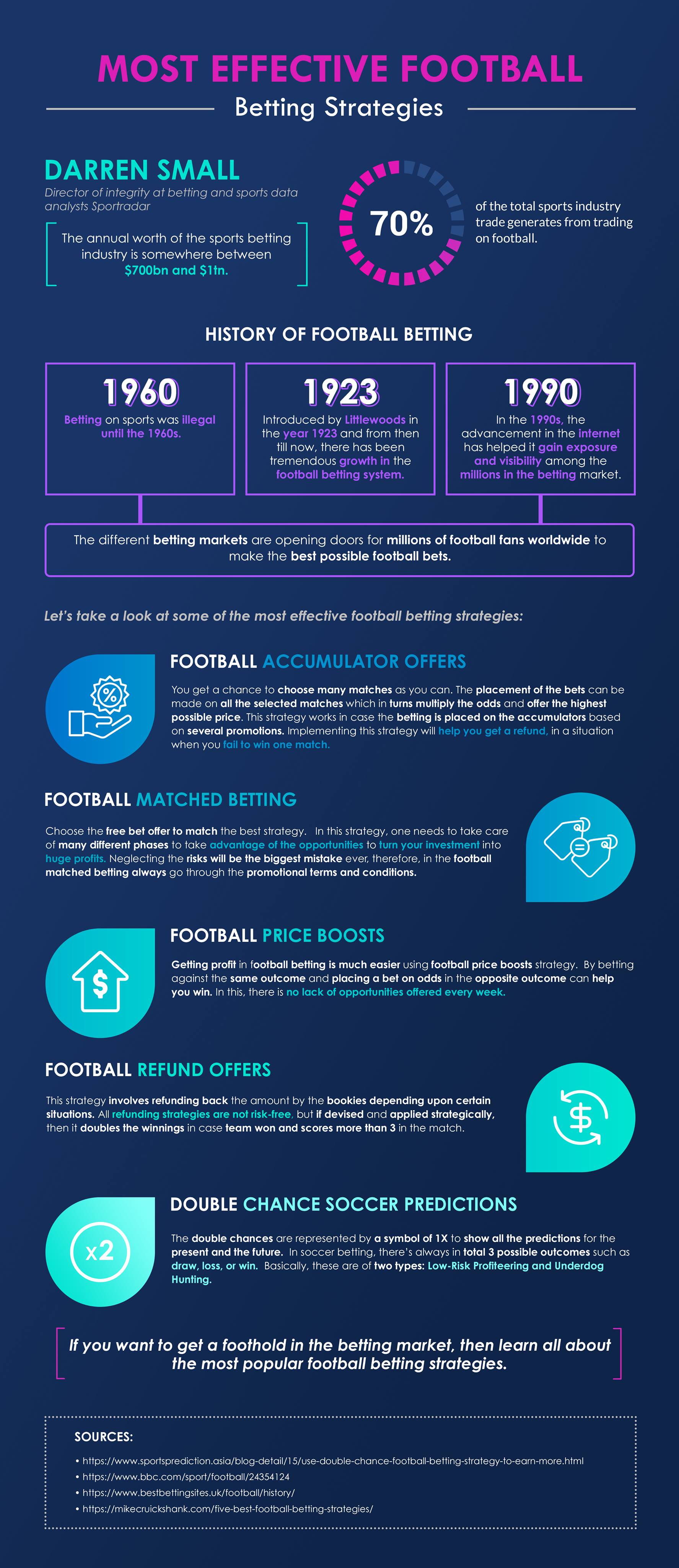 Share this Image On Your Site
Q: What Is Double Chance Betting?

Double chance betting is one of the safest and most popular forms of betting because it allows for a bettor to cover two out of possible three outcomes in his bet. It's especially recommended for beginners who are looking for low-risk bets to get themselves started.

The best example is football, where you can bet on home team winning or a draw, visitors winning or a draw, or perhaps either side taking the win without a draw. It applies to other sports, too, but it's most widely used in football

Q: What Does 1x Means In Double Chance Betting?

Double chance betting 1x means that you put your money on home team winning or a draw. The only way you lose this bet is if the guests win.

It's especially relevant if you want to bet on two teams of similar strength. In these cases, a home stadium advantage means the world and often makes the difference between winning and losing.

It's also crucial to bet 1x only when the odds on either team winning is higher than average, given that the low odds on 1 usually means lower odds on 1x.

Q: What Does 2x Means In Double Chance Betting?

Double chance 2x or commonly referred to as x2, means you're betting on the away side winning or a draw in the match, thus doubling your chances of winning.

Choose this method when betting against two possible outcomes. Best used when the teams' matches are similarly strong, so the odds don't fall too much. It's also recommended to apply 2x when both teams are clear favorites because double-chance betting decreases the chances of losing since you're betting on 2 out of 3 outcomes.

Be careful not to bet x2 against traditionally strong home sides as it could backfire massively.

Q: What Does 1 &2 Means In Double Chance Betting?

Double-chance 1 & 2 betting means that you're putting your money on a match not ending in a draw.

In a double chance betting, when the two sides meet, no matter who gets the win, you're making a profit - anything, but a draw in this case.

It's best to go for 1 & 2 double-chance bets on matches where both teams are traditionally attacking and scoring a lot of goals because more goals in a match reduce a chance of a draw.

You can also look at the table and check which teams have the fewest draws, helping you further to determine where you can use the 1 & 2 double-chance betting.

Q: Where To Get Double Chance Betting Tips?

Double chance betting could be a jackpot if you're smart and careful enough with it.

So, it's of vital importance that you pick the right tipping website, and there is one just for you at Sportsprediction

SportsPrediction offers you daily soccer predictions, including double chance betting tips that you can wisely use to your favor because they have a tradition of profitable betting tipsters who are reliable and know what they're doing.

Double chance betting can be a slippery slope, but by using SportsPrediction, you'll maximize your chance for success with this betting.