Wed 28 Jul
Looking For Effective Betting Strategies? Checkout This Sbotop Blog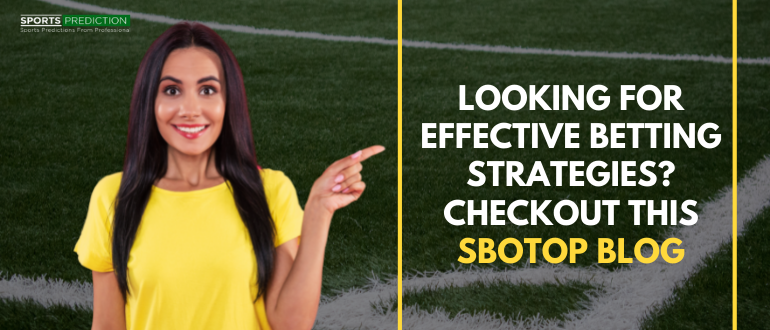 When used appropriately, betting strategies are one of the vital betting tools punters use to win wagers. However, not all betting strategies suit all types of betting situations and events. Some plans are better depending on the kind of sport, betting market, probabilities, rules of the game, teams participating, and other essential variables. Punters making wagers for the first time rarely adopt a betting strategy because of lack of awareness, not understanding a process, or implementing a wrong approach at the wrong time. Even punter's with experience can make the same mistakes by using too many strategies, overcomplicating strategies, and not exploring the best method for the best wager. Lastly, punters have a problem accessing verified, effective, and trusted betting strategies from a single reference source. Several websites publish content directed towards helping punters become better bettors. However, most publishers lack in-depth, variety, or range of betting strategies across various sports. For example, a punter looking for golf betting strategies may not find one on a soccer betting blog. A punter must visit each betting resource and compile the information needed to produce a successful betting strategy.

SBOTOP Magazine Blog
Punters face several issues when looking to learn, adapt or implement a betting strategy.
SBOTOP magazine
seeks to help punters make a higher profit by adopting effective betting strategies. SBOTOP enables punters to access multiple forms of content online such as podcasts, videos, blog posts, prediction polls, and more. SBOTOP magazine is one of the media products of SBOBET and SBOTOP. They launched the magazine to help sports fans and bettors from Malaysia, Asia, and across the globe gain access to informative content online for free. The same owners in
Celton Manx
own
SBOBET and SBOTOP
, and SBOBET is popular in Europe, and SBOTOP is popular among punters in Asia. Punters accessing either of the platforms can access the SBOTOP magazine online.
Types of Effective Betting Strategies
Effective betting strategies can be a punter's best tool at honing in on a profit-making process consistently.
Some of the effective betting strategies
punters have access to include the Martingale betting strategy, the D'Alembert betting strategy, the Kelly Criterion, Oscar's Grind, betting on different betting markets, and more.
1. The Martingale betting strategy
They can use the Martingale betting strategy in card games, sports betting, and roulette. A punter needs to double a bet after a loss or half a chance after winning to make a Martingale wager. The reasoning behind doing so is to make up for losses quickly and secure profits already won. However, a punter without enough experience or a big bankroll can get broke before getting a chance to place a Martingale wager. The other variations of the strategy include the Split Martingale, the Anti-Martingale, and the Reverse Martingale.
2. The D'Alembert betting strategy
The D'Alembert betting strategy is a betting strategy adopted for sports betting, card games, slot games, and more. Under this strategy, a punter classifies depending on outcomes (like a football game) or a game of chance (ex.: blackjack). A punter can avoid a gambler's fallacy by just being aware of this betting strategy. If a punter loses a wager, they increase the next wager by a single betting unit. If a punter wins a chance, then the punter decreases the next bet by a single predetermined betting unit.
3. The Kelly Criterion
Punters have a hard time determining how much of their funds to allocate to each bet. The
Kelly Criterion
enables a punter to estimate the best wager to make based on the probability of winning a wager. If a punter has a 60% chance of winning a bet, then the best amount to allocate to the stake is 20% of the funds. The Kelly Criterion is calculated by multiplying the winning percentage into two and then subtracting 100.
4. Oscar's Grind
Oscar's grind is best utilized on events with two outcomes with an equal probability of occurring, such as odd or even bets on roulette. The strategy may not be as effective when making a wager on sporting events with three possible outcomes or uneven odds. The
betting system
is used to take advantage of winning streaks and lose the least amount possible on losing streaks.
5. Betting on different markets
Punters can make wagers on different betting markets based on the statistics presented to them. A punter can make a wager on the number of corners,
total goals
, the cards,
Both team to score (BTTS)
, etc., in a football game. And in some cases, it's easier to predict a betting market versus trying to predict the result of a match.