Mon 18 May
Soccer Prediction | 2020 EFL Championship Top 4 Predictions - Part 2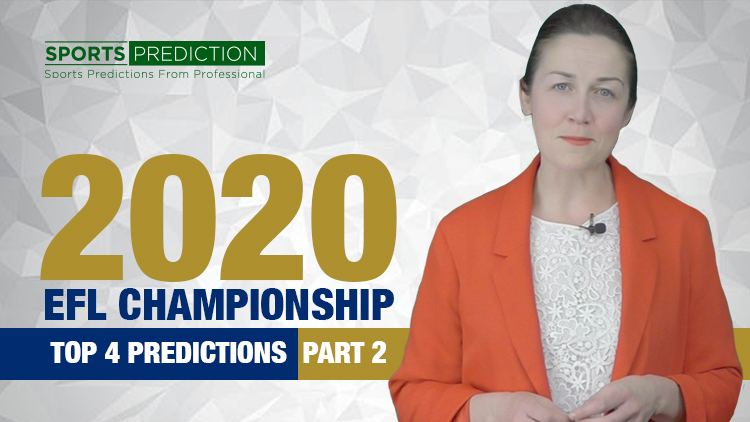 2020 EFL Championship Top 4 Predictions - Part 2
Are you a football lover? Do you watch or follow the EFL Championship back to back? Do you need help with your predictions strategy, especially how things end up with your favorite teams by the end of the season? Welcome here! I'm Emily De Cosimo and I'm the spokesperson for SportsPrediction.asia Soccer Predictions. In today's video, as part of the continuation of the Soccer Predictions Series, we will look at the 2019-2020 EFL Championship Top 4 predictions part 2.
Here, we will show you some top predictions of the EFL Championship football season. That is the second part of the season.
EFL Championship Standing
With 30 games already played in the 2019-2020 season, West Bromwich are the leaders with 56 points, and Leeds Utd came close with 55 points from the same number of games. Fulham, Forest, Brentford FC, and Bristol City are the other four teams in the top six (6).
EFL Championship Top 4 Predictions


#1. Leeds United

Leeds United have been caught in similar positions at this stage of many seasons but this year looks different. They have been playing quite fascinating football with their players in excellent form. Though some are yet below-par in some weeks, altogether, they have all it takes to secure the top spot this season, defying the narratives.
#2. West Bromwich
Even though the Baggies finished fourth last year, their rebuilding after they lost key players from the 2018-2019 season has largely paid off. They have displayed intense quality like we saw last year, with even more cohesion around their play this time. They have what it takes- the players, an experienced manager and adequate creativity in the team. Currently topping the log, they are also favorites to win and gain promotion to the EPL by the end of this season.
#3. Fulham
Fulham has quite a good squad as the Whites and the Baggies. They are dangerous in the box and though not perfect; they have the drive and thrust to keep at it till the end of the season. Their manager, who has also represented on the global stage, is an added advantage to how well they can finish. While they are doing fine and relatively good performers, they are still some way short of West Brom and Leeds.
#4. Brentford FC

Brentford FC have produced excellent performances this season. They play good and natural football, and their track record of recruitment embodies the team with enough confidence to fight for the play-offs. There are many other interesting predictions around the EFL championship. These are just a bit of the cake. Anything can happen until the final day of the season.
Do these predictions excite you or mean anything to you? We like to hear from you. Comment below and don't forget to hit the subscribe button. Watch out for more soccer predictions in the video series and we'll see you next time!