Tue 20 Apr
What Are Betting Tips And How It Can Help You Win In Sports Betting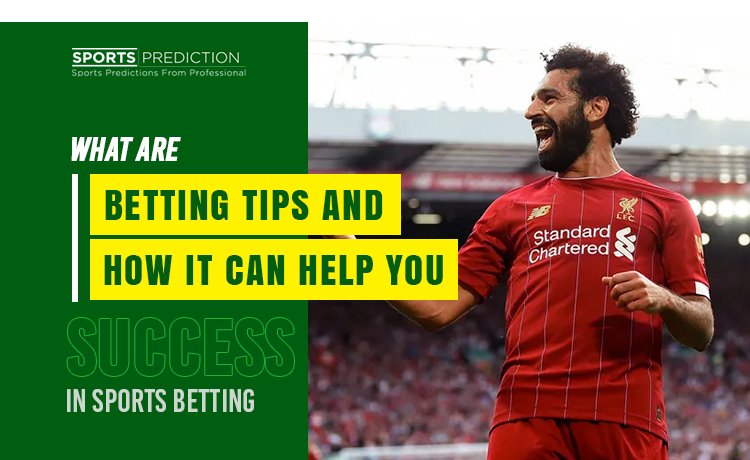 What Are Betting Tips?
Betting has grown tremendously after the introduction of online platforms. All sports' events are available at one place and betting on them is just a matter of few clicks. Availability of plethora of bets to choose from requires people to do insane amount of research. The fact is it is not practically possible to do so. It is where the betting tips step in and ease your research woes a little bit.



Betting Tips Explained
Betting tip is nothing but a prediction. The tipsters predict the probable outcome of any match for you. They may also throw light on what odds are assignable to the teams. The bettors can make decision to bet and at what price depending upon the tip served to them.
How To Read Betting Tip?
A betting tip can be decoded as below:
Match date
Odd
Type of service
In a betting tip, the tipster communicates the date when the match is due, and where it will be played. Further, they predict what will be the outcome and tell the odd assigned by the bookies. They may also suggest the betting sites that match their prediction most closely.
What are betting tips that can help win a bet?
Winning a bet does require certain preparations. The bettors are not advised to follow any tip blindly. However, there are a few actionables they must include in their betting research, assuming the fact that the tipster's prediction is just an idea and not a compulsory purchase to make. A few of such attention-worthy tips are:
A win is a win: You need not risk money on difficult bets. No one is bothered how you scored any win in a bet. It is entirely between you and the betting site. Hence, keep collecting small bets, easily predictable bets or low odd bets. These little profits keep your account going and offer you financial cushion required to stay in the betting space.
Get an idea of easy bets: A strong team at home ground meeting a weak team is easy to predict. Though correct score may look alluring, going for 1x2 betting is still a better option. It offers additional outcome to predict. Similarly, BTTS or Both teams to score saves you the hassle of predicting in terms of number. The bettor is simply betting for or against the possibility whether the teams will score a goal or not.
Know how odds are calculated: Odds calculation involves principles of probability and involves in-depth analysis too. Bettors can also follow some good handicappers to evaluate an emerging pattern or to get an idea on a match result.
Should bettors listen to tipster advice?
Well, it is entirely the bettors' call. The tipsters show their expertise in one or more betting services. They have access to Club movements, insider news, sports news, etc. Also, they keep tab on the players' activities off-field and their playing style or body language in-field. In spite of all these positives that go in favor of tipsters, the fact remains that the advice is only a suggestion. You may or may not listen it.
A few cases when tipster advice works are:
Your soccer tipster has more than 90% success rate: It does give you confidence that their suggestion may turn out to be true.
You have limited resources to do research: It happens mostly with beginners that they have little idea where to research and how to analyze a football match. Thus, their being new in the field can be offset with the tipster advice. The tipsters resources are anyway more enriched and equip them with all information needed for a successful prediction.
You have little time for leg work: Sometimes, the match's result is quite evident and you may not have ample time for fact-digging. When you just want someone to stamp approval on the result, the tipster advice comes as a reliable solution.
Summary
Football betting tips don't include only the prediction given by the tipster. It may be your lighting guide that enables you to pick a loose end and work the way up to the success in betting. Hence, listen to the advice but don't feel compelled to buy it. Your research and expert advice make the best combination, always.